Research Opportunities:
I am looking for bright, hardworking students with an interest in plant biology, evolution and systematics. The Monfils Lab is collaborative group of enthusiastic individuals who work together and strive for excellence in our research and professional endeavors. Anyone wishing to join our lab needs to be excited about biology, willing to work hard, and have a pleasant demeanor. We encourage a creative, interactive, and fun research environment.
I currently have openings for bright motivated graduate students and undergraduate researchers.
If you are a potential graduate student:
As a faculty advisor, I strive to closely mentor students through the process of scientific discovery. Students in my lab are encouraged to establish clear research and professional goals and become independent and well trained researchers. Every student in my lab is continually challenged to meet their potential.
I encourage all graduate students to seek additional funding. Below is a list of potential sources:

Daniel E. & Mildred G. Wujek Scholarship (Dept. Of Biology, CMU; Deadline: March)
Graduate Student Research & Creative Endeavors Grant (ORSP, CMU; Deadline: February and October)
American Society of Plant Taxonomist (Deadline: March)
Botanical Society of America (Deadline: March)
Sigma XI (Deadline: March and October)
Society Of Wetland Scientists Student Grant (Deadline: February)

If you are interested in applying to the Central Michigan University Graduate Program in Biology or learning more about potential Biology Department and College of Science and Technology Fellowships, contact me with a description of your background and research interests, and copies of your CV, transcripts and GRE scores (if available). All application material should be received by the graduate school no later than February 15th, if you wish to be considered for graduate funding. More information.
If you are a potential undergraduate researcher:
If you are an undergraduate interested in research studying plant biology, evolution and biodiversity, contact me. Undergraduate researchers are an integral component of my lab and are encouraged to become involved at the level that best fits their interest. I have opportunities for students interested in formal research or volunteer experience. When contacting me make sure to include a statement of your interest, your GPA and academic experience.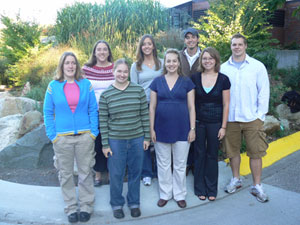 Undergraduates
Casey Droscha


B.S. Biology Natural Resources Option Minor: Geographic Information Sciences Expected Spring 2009

Research Project and Presentations
Undergraduate Research
"Molecular Variation in the Bulrushes of Michigan (Schoenoplectus; Cyperaceae): Insights from the Internal Transcribed Spacer Region of DNA"
Grants and Honors
2008 Undergraduate Research and Creative Endeavors, Grant, ORSP, CMU ($150)
2008 Undergraduate Student Summer Scholars Program Award Recipient, CST, CMU ($3000)
2007 Sigma Xi Undergraduate Research Funds, Central Michigan Chapter, Sigma Xi ($100)
Laura Schmidt
B.S. Biology Natural Resources Option
Minor: Religion
Expected Spring 2008
Research Project and Presentations
Undergraduate Research and Storch Research Fellowship
"Systematics, Pollen Evolution and Molecular Variation in the Mustard Family (Brassicaceae)"

Presentations
Schmidt L., Tirrell A. and A. K. Monfils. 2008. Pollen Grain Morphology in the Mustard Family (Brassicaceae). Posters at the Capitol, Lansing, MI. (Poster Presentation)

Schmidt L., Tirrell A. and A. K. Monfils. 2008. Pollen Grain Morphology in the Mustard Family (Brassicaceae). Student Research and Creative Endeavors Exhibition, Central Michigan University, Mt. Pleasant, MI. (Poster Presentation)

Schmidt, L., Tirrell A., Hart P. and A. K. Monfils. 2007. Pollen Grain Morphology in the Mustard Family (Brassicaceae). Botany 2007 (Affiliated with Botanical Society of America, American Society of Plant Taxonomists and American Society of Plant Biologists). Chicago, Illinois. (Poster Presentation)

Schmidt, L and A. K. Monfils. 2007. Molecular Evolution in the Mustard Family (Brassicaceae). Student Research and Creative Endeavors Exhibition, Central Michigan University, Mt. Pleasant, MI. (Poster Presentation)
Grants and Honors
2008 Olive Hutchinson-Kries Biology Scholarship ($500)
2008 Sigma Xi Undergraduate Research Funds, Central Michigan Chapter, Sigma Xi ($100)
2007 Undergraduate Student Publication and Presentation Grant, ORSP, CMU ($400)
2007 Presentation Grant, Department of Biology, CMU ($144)
2007 Tom and Nancy Storch Research Award, Department of Biology, CMU ($4000)
2007 Federated Garden Clubs of Michigan Scholarship, Department of Biology, CMU ($1000)
2007 Undergraduate Student Summer Scholars Program Award Recipient, ORSP, CMU ($3000) – Declined for Storch Research Award
2007 Beaver Island Tuition Scholarship, Department of Biology, CMU ($150)
2006 Sigma Xi Undergraduate Research Funds, Central Michigan Chapter, Sigma Xi ($200)
2006 Olive Hutchinson Kries Memorial Scholarship, Department of Biology, CMU ($500)
2006 Unsolicited Request for Undergraduate Conference Funds, ORSP, CMU ($1000)
William Webster
B.S. Biology Natural Resources
Expected Spring 2009
Research Project and Presentations
Undergraduate Research
" Molecular and Morphological Variation in Wetland Flora and Michigan"
Krystle Wiegert
Honors Program
B.S. Biology Microscopy Option
Minor: Chemistry
Expected spring 2009
Research Project and Presentations
Undergraduate Research and Honors Thesis
"Morphological Variation of Culm, Achene and Scale Structure in the Bulrushes of Michigan (Schoenoplectus; Cyperaceae): Insights from Scanning Electron and Light Microscopy"
Grants and Honors
2008 Norvall C. and Evelyn Gagnon Bovee Scholarship for the Beaver Island Biological Station, CMU ($500)
2008 Undergraduate Research and Creative Endeavors, Grant, ORSP, CMU ($150)
2008 Tom and Nancy Storch Research Award, Department of Biology, CMU ($3000)
–Declined for Undergraduate Summer Research Experiences in Plant Genomics at Michigan State University
2007 Beaver Island Tuition Scholarship, CMU ($100)
Graduate
Diana Hurlbut
M.S. Conservation Biology Plan B
Graduated Spring 2008
Research Project and Presentations
Graduate Research
Morphological and Molecular Variation in the Schoenoplectus pungens Species Complex (Cyperaceae)"

Presentations
Hurlbut, D., A. Best and A. K. Monfils. 2007. Molecular and Morphological Variation in the Schoenoplectus pungens species complex (Cyperaceae). Botany 2007 (Affiliated with Botanical Society of America, American Society of Plant Taxonomists and American Society of Plant Biologists). Chicago, Illinois. (Poster Presentation)

Hurlbut, D and A. K. Monfils. 2007. Molecular Variation in the Schoenoplectus pungens Species Complex (Cyperaceae). Midwest Ecology and Evolution Conference, Kent State University, Kent, Ohio. (Poster Presentation)

Best, A. Hurlbut, D and A. K. Monfils. 2007. Morphological and Molecular Variation in the Schoenoplectus pungens Species Complex (Cyperaceae). Student Research and Creative Endeavors Exhibition, Central Michigan University, Mt. Pleasant, MI. (Poster Presentation

Grants and Honors

2007 Graduate Student Research & Creative Endeavors, ORSP, CMU ($1000)
2007 Graduate Student Presentation and Publication Grant, ORSP, CMU ($350)
2007 Presentation Grant, Department of Biology, CMU ($172)
2006 Graduate Student Research & Creative Endeavors, ORSP, CMU ($700)
2006 Wujek Scholarship, Department of Biology, CMU ($650)
2006 ½ time Summer Research Assistantship, Department of Biology, CMU ($4750)
2006 Florida Native Plant Society Grant ($1000)
2006 Delzie Demaree Travel Award, Missouri Botanical Gardens ($300)
2006 Unsolicited Request for Undergraduate Conference Funds, ORSP, CMU ($1000)
Employer
New York State Museum as a Research and Collections Technician
Undergraduate
Emily Bellairs
B.S. Biology Microscopy Option
Minor: Chemistry
Graduated Fall 2007
Research Project and Presentations
Summer Scholar and BIO 403
"Evolution and Chemical Structure of the Euglenoid Storage Carbohydrate, Paramylon"

Presentations
Bellairs, E. and A. K. Monfils. 2007. Morphological Diversity of Paramylon in Photosynthetic Euglenoids. Botany 2007 (Affiliated with Botanical Society of America, American Society of Plant Taxonomists and American Society of Plant Biologists). Chicago, Illinois. (Poster Presentation)

Bellairs, E and A. K. Monfils.2007. Euglenoid Paramylon: Diversity and Medicinal Applications. Student Research and Creative Endeavors Exhibition, Central Michigan University, Mt. Pleasant, MI. (Poster Presentation)

Bellairs, E and A. K. Monfils.2006. Euglenoid Paramylon: Diversity and Medicinal Applications. Undergraduate Research Symposium, Central Michigan University, Mt. Pleasant, MI. (Poster Presentation)
Grants and Honors
2007 Undergraduate Student Publication and Presentation Grant, ORSP, CMU ($400)
2007 Presentation Grant, Department of Biology, CMU ($144)
2007 Olive Hutchinson-Kries Biology Scholarship ($500)
2007 Outstanding CMU Student in Confocal Microscopy Award 2006 Sigma Xi Undergraduate Research Funds, Central Michigan Chapter, Sigma Xi ($200)
2006 Undergraduate Student Summer Scholars Program Award Recipient, ORSP, CMU ($3000)
2006 Undergraduate Research and Creative Endeavors Grant, ORSP, CMU ($450)
2006 Unsolicited Request for Undergraduate Conference Funds, ORSP, CMU ($1000)
2006 Norman R. Dzingle Award (Outstanding performance in BIO 552: Scanning Electron Microscopy), Department of Biology, CMU
Employer
Dow Industries as a microscopist

Amanda Best


B.S. Biology Microscopy Option
Graduated Spring 2007
Research Project and Presentations
BIO 403
"Floral Morphological Variation in the Scheonoplectus pungens Species Complex (Cyperaceae)"

Presentations
Hurlbut, D., A. Best and A. K. Monfils. 2007. Molecular and Morphological Variation in the Schoenoplectus pungens species complex (Cyperaceae). Botany 2007 (Affiliated with Botanical Society of America, American Society of Plant Taxonomists and American Society of Plant Biologists). Chicago, Illinois. (Poster Presentation)

Best, A. Hurlbut, D and A. K. Monfils. 2007. Morphological and Molecular Variation in the Schoenoplectus pungens Species Complex (Cyperaceae). Posters at the Capital, Lansing, MI. (Poster Presentation)

Best, A. Hurlbut, D and A. K. Monfils. 2007. Morphological and Molecular Variation in the Schoenoplectus pungens Species Complex (Cyperaceae). Student Research and Creative Endeavors Exhibition, Central Michigan University, Mt. Pleasant, MI. (Poster Presentation)
Grants and Honors
2007 Undergraduate Research and Creative Endeavors, ORSP, CMU ($500)
2006 Norman R. Dzingle Award (Outstanding performance in BIO 552: Scanning Electron Microscopy), Department of Biology, CMU
Employer
McCrone Assoc. as a microscopist

Paul Hart


B.S. Biology Microscopy Option
Graduated Fall 2006
Research Project and Presentations
BIO 403
"Pollen Diversity in the Mustard Family (Brassicaceae)"

Presentation
Schmidt, L., Tirrell A., Hart P. and A. K. Monfils. 2007. Pollen Grain Morphology in the Mustard Family (Brassicaceae). Botany 2007 (Affiliated with Botanical Society of America, American Society of Plant Taxonomists and American Society of Plant Biologists). Chicago, Illinois. (Poster Presentation)
Grants and Honors
2006 Unsolicited Request for Undergraduate Conference Funds, ORSP ($1000)
Employer
Dow Industries as a microscopist
Abby Tirrell
B.S. Biology Microscopy Option
Graduated Spring 2008
Research Project and Presentations
Undergraduate Research and BIO 403
"Pollen Diversity in the Mustard Family (Brassicaceae)"

Presentation
Schmidt L., Tirrell A. and A. K. Monfils. 2008. Pollen Grain Morphology in the Mustard Family (Brassicaceae). Posters at the Capitol, Lansing, MI. (Poster Presentation)

Schmidt L., Tirrell A. and A. K. Monfils. 2008. Pollen Grain Morphology in the Mustard Family (Brassicaceae). Student Research and Creative Endeavors Exhibition, Central Michigan University, Mt. Pleasant, MI. (Poster Presentation)

Schmidt, L., Tirrell A., Hart P. and A. K. Monfils. 2007. Pollen Grain Morphology in the Mustard Family (Brassicaceae). Botany 2007 (Affiliated with Botanical Society of America, American Society of Plant Taxonomists and American Society of Plant Biologists). Chicago, Illinois. (Poster Presentation)
Grants and Honors
2008 Undergraduate Research and Creative Endeavors, Grant, ORSP, CMU ($150)
2007 Norman R. Dzingle Award (Outstanding performance in BIO 552: Scanning Electron Microscopy), Department of Biology, CMU
2007 Presentation Grant, Department of Biology, CMU ($128)